GROTON ANYTIME FITNESS NOW OFFERING MONTH-TO-MONTH NO COMMITMENT MEMBERSHIPS! Local residents Mark and Kelly Sinclair are owners and are breathing new life into the club, where customers can be assured of a warm welcome, and all the help and support they need to succeed in their own personal fitness journey. They will be bringing the programs and services at those clubs to Groton in the coming months.
Please visit our website:  Anytime Fitness – Gym in Groton, MA
Click on the Inage below for a Video Introduction to Anytime Fitness, and its Owners, Mark & Kelly Sinclair.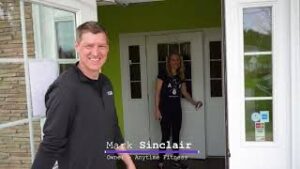 STAFFED HOURS
Monday:

3:00 pm – 8:00 pm

Tuesday:

3:00 pm – 8:00 pm

Wednesday:

6:00 am – 8:00 am | 3:00 pm – 8:00 pm

Thursday:

3:00 pm – 8:00 pm

Friday:

Unstaffed

Saturday:

8:00 am – 2:00 pm

Sunday:

Unstaffed